The UK's leading exhibition dedicated to dyslexia and neurodiversity.
15th to the 16th of March 2024
The primary aim of the Dyslexia Show is to empower and provide understanding to those with dyslexia and neurodiversity. It strives to foster a deeper insight into the various ways in which education, parents, the workplace, and individuals themselves can offer support and awareness.
Education @ Dyslexia Show 2024 offers a unique and essential opportunity for educational professionals, including teachers, teaching assistants, specialists, and other individuals working in the field, to enhance their knowledge and understanding of dyslexia and neurodiversity.


Parents @ Dyslexia Show a remarkable event that celebrates and supports parents, grandparents, and the wider family, while raising awareness and understanding of dyslexia and neurodiversity. Mark your calendars for the 15th and 16th of March 2024, for the Dyslexia Show taking place at the NEC in Birmingham. 
The Workplace @Dyslexia Show offers a unique opportunity for high-powered organisations and senior leaders to come together and explore the profound impact of neurodiversity in the workplace. Our goal is to enhance understanding and discussion surrounding neurodiversity, fostering a more inclusive society and unlocking the potential of individuals with dyslexia and other neurodivergent conditions. 


Individual @ Dyslexia Show. this transformative event aims to provide a wealth of knowledge, understanding, and support, highlighting the need for change in how we perceive and accommodate neurodivergent individuals. Taking place on 16th March 2024 this exclusive event helps to embracing neurodiversity, we can create an inclusive society that celebrates the unique strengths and talents of every individual. 

We can create an inclusive society that celebrates the unique strengths and talents of every individual.
"My teenage daughter hasn't stopped making reference to a few things we learnt. Life changing and confidence boosting. Excellent speakers."
"It was such a warm and welcoming atmosphere which is not something you can 'create' it just showed the strength in networks and relationships "
"I will definitely be recommending the show to friends and my children's school…Thank you so much for organising this, we are already excited for next year!!"
"I love going and I find it very useful. I come away with my brain full of new ideas and resources to try. I'm a dyslexia assessor, so it's nice to get some CPD in too. I like the networking opportunities."
"It was a brilliant day with so many knowledgeable and friendly people. My daughter is 7 and took her diagnosis quite hard but was reassured greatly by seeing so much celebration and information about dyslexia. I can't thank you all enough for that."
Play a vital role in furthering awareness, research, and development in the field of dyslexia and neurodiversity. Dyslexia Show is poised to become the premier event for dyslexia and neurodiversity in the UK. Join in to spread awareness and understanding of your products and services.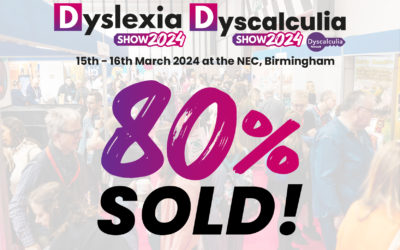 Join the Dyslexia Show and Dyscalculia Show: Be Part of a Changing Landscape Back in 2019, when I...
read more